Our in-person banquet for 2021 has been cancelled.  However, we still have a variety of hunts, trips and arts that you can bid on to support our Veteran's programs.  That auction closes on June 5th.
Thank you for supporting our 2020 Banquet!
Each March the Gateway Area Chapter hosts its largest event of the year, the Annual Banquet and Auction.   The Annual Banquet and Auction is the chapter's primary fundraiser which helps to support the numerous conservation, education and humanitarian initiatives the chapter is involved with throughout the year.
Full sit-down dinner, gun raffles, bucket raffle and silent auction entertain guests until the main event of the evening, the LIVE AUCTION. The Live Auction will contain unique guns, and signature items such as hunts donated by both domestic and international outfitters.
For those discerning hunters wishing to schedule the "hunt of a lifetime", many such opportunities will be available on the live auction.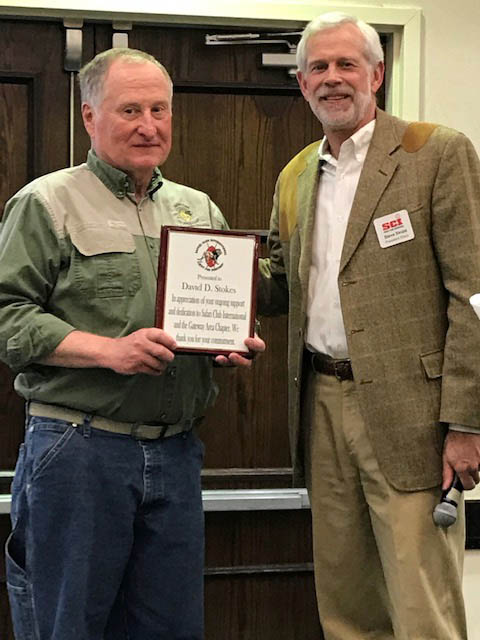 A special thanks to SCI's Steve Skold for coming to our 2019 Banquet.  He is seen here presenting an award of appreciation to SCI Chapter President David Stokes.