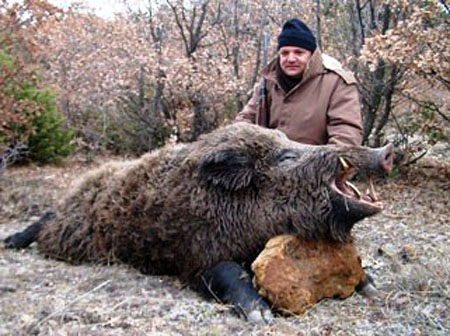 Anuritay Ranch of Malbran – Santiago Del Estero – Argentina has donated a 7 day hunt for two hunters in a luxury hunting lodge.
Trophy fees included are 1 Russian Boar (hunting with spears if the hunter would like too), 1 Ram and 1 Goat per hunter
Hunting takes place on 20,000 of free ranging acres and the season runs from February to December. Dates available for years 2019 and 2020
Cost of extra hunters is $500/day and non-hunters $200/day. Other Costs not included are dipping, packing $750/hunter, Licenses per hunter $200 and transfer fee from airport to ranch and back $800/ per group (1 to 4 passengers) and GST taxes.
Rifles are available free of charge, you just pay for the bullets. Rifle choices include 243- 270- 308- 7.65 Mauser.- few level action 30/30 and 44 magnum .- 375 – 458- and 476 Westley Richards Express.
This is the only place in South America for hunting 22 different species of big game in the same location. Four different sub- species of Water Buffalo are available. Wing shooting is also available at the same place.
Trip arrival and departure is from Santiago del Estero Airport. When arriving at Ezeiza Int. Airport , a representative from Anuritay Ranch will pick you up and transfer you to the domestic airport (45 minutes drive) for the final leg to Santiago Del Estero.
Francisco "Paco" Pizarro, P.H. & Owner of Anuritay Ranch
Website Address: www.anuritay.com
Email Address: anuritay92@gmail.com